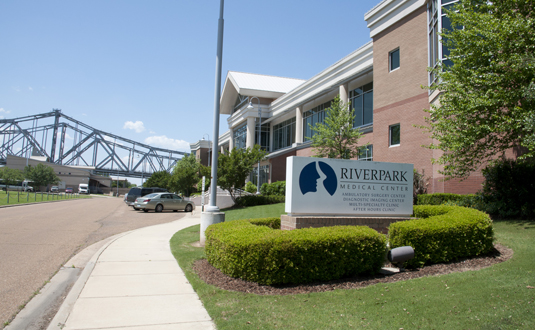 Riverpark Medical Center is a Multi-service Ambulatory Care Center, often called an Outpatient Center. From the quality of care to the administrative coordination, our facility is totally designed with a "Patient Comes First" focus. Riverpark provides convenience, cost effectiveness, and an unparalleled level of excellence once reserved for big city healthcare. Riverpark offers everything that a full service hospital offers except overnight hospital beds and an emergency room. We accept all major medical insurances in Louisiana and Mississippi. Riverpark's facility includes an Ambulatory Surgery Center and a Digital Imaging Center offering the latest technology, an on site Sports Medicine and Physical Therapy Center and a Multi-specialty Clinic with Board Certified physicians.


R

iverpark is scenically situated on the levee of the Mighty Mississippi River in Vidalia, Louisiana. From the Vidalia Landing, the towering bluffs of historic Natchez, Mississippi, just across the river and the bridge that links the two towns afford patients and staff a beautiful backdrop for their healthcare setting. Directly adjacent to Vidalia's River Walk is our ample parking area with entrances on both the east and west sides, providing space for more than 200 vehicles."
In keeping with our "Patient Comes First" creed, the reception areas all overlook the river. The patient rather than the physicians enjoy the striking view.